With reports that Atlanta city planners are preparing for a population boom in the next several years, it's a good time to reflect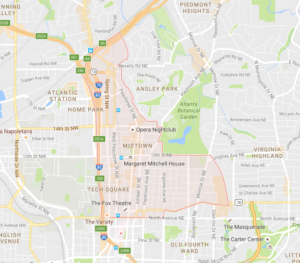 on what makes our city and surrounding area so special.
In addition to the business centers providing great jobs, Atlanta has some incredibly unique neighborhoods with tons of amenities. One of them is Midtown, which we're featuring today because the American Planning Association designated it one of their Great Places in America.
Where Is Midtown?
Midtown is a cool, active urban neighborhood situated in downtown Central Atlanta, between the commercial and financial districts. If you work downtown and love the city energy, it's the ideal place to call home.
Fun Facts About Midtown
It was originally a pine forest a miller purchased to fuel his mill, but turned into a residential area
The 1910 Encyclopædia Britannica listed Midtown as one of the cities nicest residences.
In the late 1990s the Midtown Alliance transformed Midtown from a neglected neighborhood into a mixed-use, live-work urban residential center.
Since 2000, nearly $5 billion has been invested in Midtown Atlanta.
Midtown contains about one-third of the city's high-rises and some of Atlanta's most recognizable buildings
Why Live in Midtown?
With a walkable, well-planned grid that also offers plenty of trees, Midtown Atlanta offers an urban living experience you've only dreamed of.
It hosts community events almost daily, boasts amazing restaurants and provides runners, nature-lovers and families the well known, 230-acre Piedmont Park.
It's got a lot of visual character. Midtown offers a mix of older architecture and new building renovations.
Like going to concerts? The Fox Theater, originally built as a Shriner temple, is now a destination for concerts, theater and other cultural events. Midtown also hosts the Peachtree Music Festival, a one-day, two-stage music festival blending indie rock bands with electronic DJs
Midtown is known by many residents as Atlanta's "Heart of the Arts". It is the home of the Ferst Center for Arts.
With a focus on the environment, the Midtown Luminaries group honors buildings and businesses that emphasize sustainability.
Into food? The annual Taste of Atlanta is a three-day food festival where more than 90 neighborhood restaurants and food vendors feature their top dishes and local chefs do live demonstrations.
Piedmont Park is also the finish line of the Peachtree Road Race, held annually on Independence Day.
Still Improving
More funding is pouring into Midtown for improvement projects, including the Midtown Alliance's multi-million dollar renovation of Juniper Street which will include lighting, landscape and sidewalk repair, in addition to a bicycle lane, and more on-street parking. Therefore, it's an excellent time to buy a home in Midtown Atlanta.
Check Out Midtown
If you're moving to the Atlanta area and are exploring Atlanta neighborhoods, you've got to check out Midtown, especially if you work downtown and appreciate the great restaurants, culture and convenience of urban living.
And of course, if you have questions about Midtown or any other great Atlanta neighborhood, click any of the chat buttons we have placed so shamelessly around the web site… or just click here to chat now.