You've heard about it on the news, read about it in the newspaper and probably heard people talking about it at work. But what is the Atlanta BeltLine exactly, and what does it mean for you and your family? Whether you're a current resident of Atlanta or looking for a home in Atlanta, the Atlanta BeltLine will make a big difference in your quality of life, how you get around town and possibly where you decide to buy a home.
What is the Atlanta BeltLine?
In a nutshell, the Atlanta BeltLine is a redevelopment project transforming a 22-mile stretch of historic railroad tracks encircling Atlanta. These tracks are being turned into safe, pedestrian-friendly rail transit and trails that connect 45 neighborhoods along the railroad corridor. Here's how it's shaped and where it will run: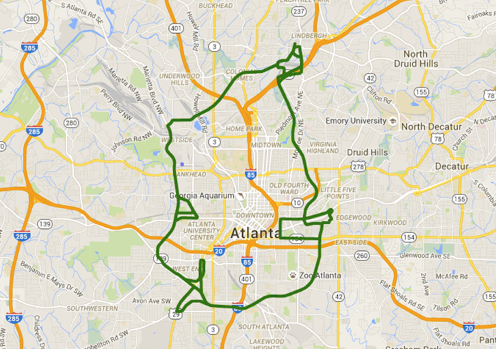 The project itself involves elements of public transportation, trails, greenspace, affordable housing and public art. Some of the community benefits of the Atlanta BeltLine are:
22 miles of rail transit

33 miles of  trails

1,300 acres of park and greenspace

5,600 affordable housing units

$10-20 billion in economic development

30,000 permanent jobs
Why Is the Atlanta BeltLine Important?
Any major metropolitan city needs a solid transportation system and an infrastructure planned for growth. As businesses move to town and job numbers increase, things like transportation and public space need to expand as well. The Atlanta BeltLine is a plan for both expanding these places and services as well as creating direct connections to downtown and midtown. The Atlanta BeltLine will connect with the the existing MARTA system and other transit services from outlying suburban communities. This will provide a benefit for suburban communities by providing convenient transportation to the city center, and it will benefit communities closer to downtown–and all over Atlanta–by easing gridlock.
When Will the Atlanta BeltLine Be Complete?
The entire project will not be complete until 2030, but four trail segments of the Atlanta BeltLine are open, along with six new or renovated public parks. Several affordable housing communities are also open along the corridor.
Should You Consider Buying a Home Along the Atlanta BeltLine?
If you're looking at homes for sale in Atlanta, consider the areas around the Atlanta BeltLine network. For the next 15 years, various city organizations and volunteer groups will be implementing community amenities to this area to complete the overall vision of the project, meaning that you would likely be buying a home near or next to biking trails, parks and rail networks connecting you throughout the Atlanta metropolitan area. Here is a link to homes on the Atlanta BeltLine.
If you're not familiar with the areas along the Atlanta BeltLine and want some of your questions answered, contact us. We know the neighborhoods and are happy to help.
And if you'd like more maps and information on the project, click here.
Map information is deemed reliable but not guaranteed. Please confirm all listing information with a licensed Realtor.